1. Motherhood
Motherhood is the hardest, yet absolute best thing that has ever happened to me. It sure took me by surprise in many ways, but I wouldn't trade it for the world. My little Oaklyn girl has yet another cold. It started out okay and she was actually sleeping really well. Last night was a completely different story. We put Oaklyn to bed after a bath and her nightly routine per usual. She woke up about 30 minutes later screaming. She's done that before, but she usually puts herself back to sleep pretty quick. This time she wasn't stopping. I went in there to give her the bottle, but she couldn't drink because she was so stuffed up so I had to use a nose frieda to clear her up. She's terrified of that thing so I snuggled her and got her back to sleep. From there on out we attempted several more times to get her to sleep. Around 1 am she was screaming at the top of her lungs. I went in her room in a panic and found her hitting her head on her crib, screaming, red faced, with snot drool and tears on her face. I immediately picked her up and her little body would not settle down. It took about 15 minutes of bouncing and both of us crying for her to finally get her to rest her sweet face on my shoulder. She needed lots of snuggles, another bottle, and a little play time before she was back in bed at 2 am. At one point I looked at her little body sitting on my lap in our bed playing with a fake flower and I began to tear up. I don't like being awake at 2 am, but I was so grateful that I was awake at that moment to spend extra time with her. How is it that sacrificing everything can turn into the most pure love of all? When I laid my sweet baby in her crib that night, I had a hard time walking away. I wanted to crawl in that crib with her and tell her all night how much I love her and how precious she is to me and her daddy. I cannot believe that my Heavenly Father trusted me with this beautiful child. She tests me daily and for that I am so grateful. She has taught me more than I knew I needed to learn and she has brought the most amazing joy and happiness to my life. Motherhood is not for the faint of heart, but it is the most amazing thing any woman will ever do. Oaklyn Joy, this week I am beyond thankful I get to experience motherhood with you.
2. Cooking
I have always had such a love for food and cooking. I have never taken a cooking class and I rarely follow recipes. I make my own rules in the kitchen and I would say 90% of the time it turns out good ;) Making dinner can become very repetitive and can easily seem like a chore, but if you pretend you have your own cooking show and play with recipes how you think you'll like it, it can become tons of fun! I thoroughly enjoy cooking for my family and I'm so glad my husband enjoys eating as much as I love cooking! I'm so thankful I was blessed with this talent and that I'm able to cook yummy meals every day!
I have a series on this blog where I share a recipe every Tuesday! Come back every Tuesday for a Tasty Tuesday recipe :)
3. Music
Though I would love to say that I am thankful for music because I play an instrument or sing really well... that's just not the case ha! I do love to sing though. As long as I'm in the car alone with the windows rolled up ;) Music has always been a little escape from reality for me. It can help turn the worst days into the happiest days, it can calm me down and rile me up, it can change my mood and fills me with happiness. I love when I hear a new song and it makes me feel all tingly inside or when it fills me with so much passion and love for my family that I just might burst. I'm so thankful that music plays everywhere. It brings so much entertainment and happiness into the world. I love that we sing hymns at church and that it invites the spirit to every meeting. I love that Oaklyn already understands how to dance when music comes on and that she stops and smiles every time I turn it on. I love that Christmas music brings holiday cheer to everyone and I love that upbeat songs are played at most sports functions to get the players and fans ready for some action. I especially love reminiscing on our first dance and the way the music filled both of our hearts with an abundance of love and that that song has now ingrained an everlasting memory each time it comes on. I'm so thankful to live in a world where music is always being played, and I'm thankful that I'll (one day) have the opportunity to maybe learn to play or sing music of my own!
What are you thankful for this year??
I'd love to read your post!
Join the link up down below by posting the link to your own post by pressing the blue button! :)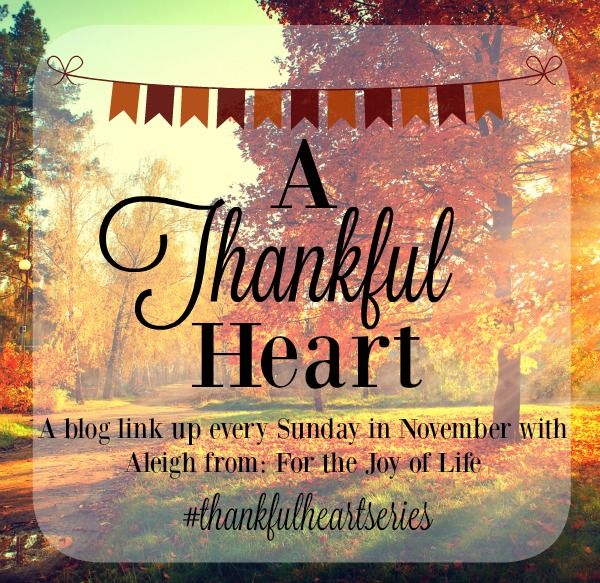 1) Please subscribe to or follow your host and co-host's of the week. (first 3 links)
2) Visit and comment on at least 5 other blogs. This link up is meant to create a blog community so don't be shy!
3) In your post, please either share The"Thankful Heart" button above by inserting the code or link back to this post on your blog post.
4) Make your post more appealing and creative by adding whatever pictures you please and as many reasons to be thankful as you'd like! (remember that the post you link up should be about what you are thankful for!)
(#5 is optional but, very much recommended!)
5) Share your post on instagram using #thankfulheartseries (with your choice of picture) and go check out other posts! Be a friend and comment on or like their posts :)